Shade's Landing Inc. offers many services for firearms training, self-defense and survival. Including carry permit courses and tactical handgun courses. We even offer an online multistate carry course.
Our complete line of classes can be ordered online at our store at: Our online store.https://www.garyshade.com/shop/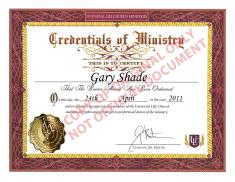 And Gary Shade is also an ordained Minister registered in the State of Minnesota to officiate weddings, baptisms and funerals. Our fee to officiate a wedding or renewal of vows, baptism or funeral is $200. To bless your house, pets, or firearm, $50.
If you are interested, please call us at 952-891-1537.